dropz - Caffeine with Lemon/Lime
In stock - in 3 Werktagen in Deinen Händen
Unsere Standardlieferzeit beträgt 1-3 Werktage
Kostenloser Versand ab 19 EUR
🌱 Natürliche Aromen in Schweizer Qualität

🔋 Mit 50mg Koffein pro Drop

👌 Ohne Kalorien, ohne Zucker und ohne Süssungsmittel

🙌 20 dropz pro Beutel

🌳 Plastikfrei

🌊 Jeder Kauf unterstützt den Ocean Clean Up

🚀 Entwickelt und hergestellt in der Schweiz

🚚 Schneller Versand, gratis ab 19.-
With our caffeine drop with lemon you can easily mix a delicious energy drink: refreshing water with lemon flavor, calorie- and sugar-free. With its natural ingredients, dropz is your healthy and plastic-free alternative to soft drinks and the like. When you feel like going back to bed and need a real energy kick, dropz will wake you up again.
Your natural energy boost, 100% sugar- and plasticfree.

You easily master meetings that could have been an email and fight your way through everyday stress amidst family meetings and dentist appointments. Yet there's just no time for nicely draped fruits in stylish chrome water jugs – understandable. dropz Caffeine with Lemon/Lime is your energy kick that's uncomplicated and still good to you and your body, giving you the power for the next phone marathon and your chats with your girls and guys.
Your healthy energy drink - very easy and without stress

Mix your own refreshing drink that is guaranteed to make you want more. And you can easily have that extra, because with 30 dropz per bag, you can turn between 6 and 30 liters of water into a refreshing source of energy. On long days at the office or when you're looking forward to a real thirst quencher after sports: Just fill up with tap water, add a drop and you'll turn the night into day.
Say goodbye to plastic waste with dropz
From now on, you can get your healthy energy drink without the hassle of plastic bottles and aluminum cans. And even better: for every pack of dropz sold, we fish one PET bottle out of the ocean.
Water with caffeine: your energy boost without a guilty conscience
With dropz you can create anytime a sugar-free alternative to energy drinks and coffee: Water with caffeine and natural lemon flavor. With a caffeine concentration of 50 mg per drop, just one will make you as awake as a cup of coffee, and two will make you as focused as after an energy drink. All without the sticky feeling and calorie bombs that launch an assault on your summer body. Instead, you get natural ingredients, no sugar and zero calories. So you can post #healthylifestyle with a clear conscience.
Turn dropz caffeine with lemon/lime into your favorite drink. You can mix one drop with 2-10 dl of water, depending on how intense you want the flavor to be. It is best to start with 5 dl of cold water (carbonated or not) and one drop.
✓ Natural flavors in Swiss quality


✓ With 50mg caffeine per Drop


✓ Without calories

✓ Without sugar

✓ 30 dropz per bag

✓ Plastic-free


✓ Every purchase supports the Ocean Clean Up


✓ Developed and manufactured in Switzerland


✓ Fast shipping, free from 19.-

Natürliche Aromen, Säuerungsmittel: Zitronensäure, Säureregulator: Natriumhydrogencarbonat, natürliches Koffein, L-Leucin, Carboxymethylcellulose.
*Enthält 50 mg Koffein pro Portion (1 Drop). Für koffeinempfindliche Personen, Kinder, Schwangere und Stillende nicht geeignet. Empfohlene Tagesdosis von 200 mg oder max. 3 mg/kg Körpergewicht nicht überschreiten, ausserhalb der Reichweite von Kindern aufbewahren.
| | |
| --- | --- |
| Nährwertangaben pro 100ml |   |
| Energiewert/Energie | 0 kJ / 0 kcal |
| Fett (g) | 0 |
|  - davon gesättigte Fettsäuren (g) | 0 |
| Kohlenhydrate (g) | 0 |
|  - davon Zucker (g) | 0 |
| Eiweiss (g) | 0 |
| Salz (g) | 0.1 |
| Koffein (mg) | 50 |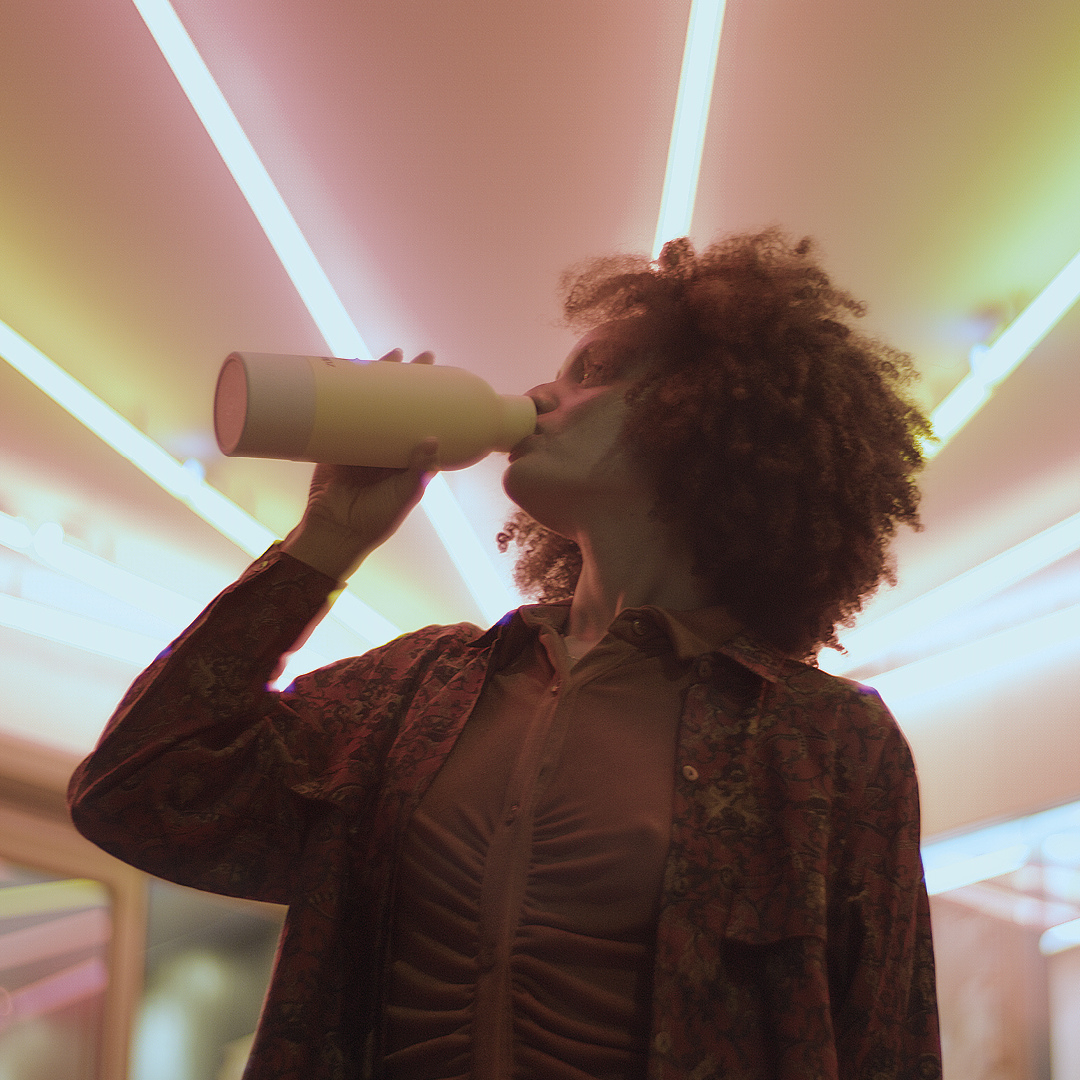 Dein gesunder Energydrink
Mach aus deinem Leitungswasser ein Leistungswasser. Unsere
Energy Linie mit natürlichem Koffein versorgt dich mit dem perfekten Extrakick an Energie.  Dabei verzichtest du vollkommen auf Zucker und Süssungsmittel.
50 mg natürliches Koffein / Drop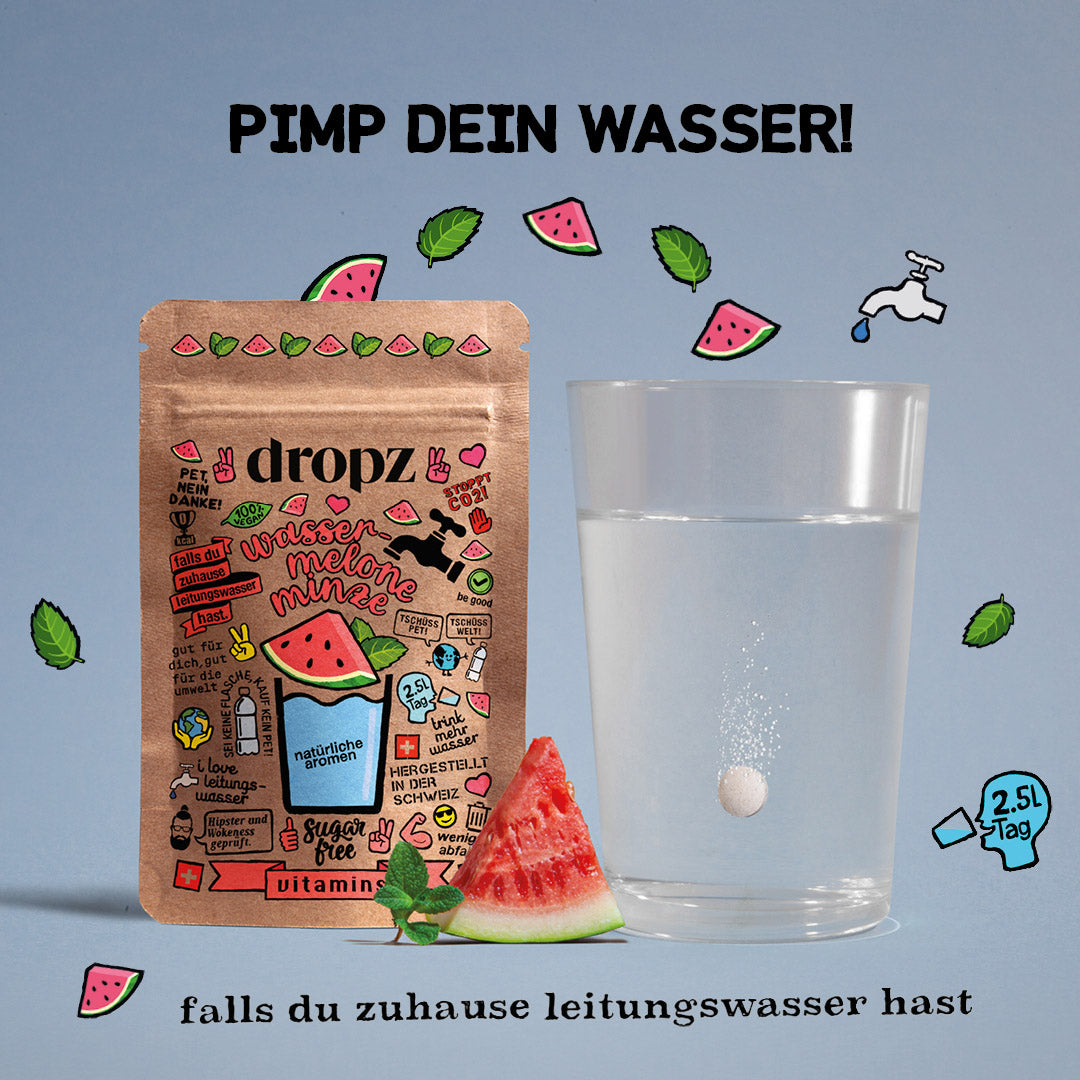 Pimp dein Wasser
Keine Lust auf einen Kaffee oder ein Energy? Dann löse einen Drop in 0.2 – 1 L Wasser auf und geniesse dein fruchtiges Leistungswasser. Starte mit 0.5 L kaltem Wasser mit oder ohne Sprudel.
1 Beutel   I 20 dropz   I   4-20 L Koffeinpower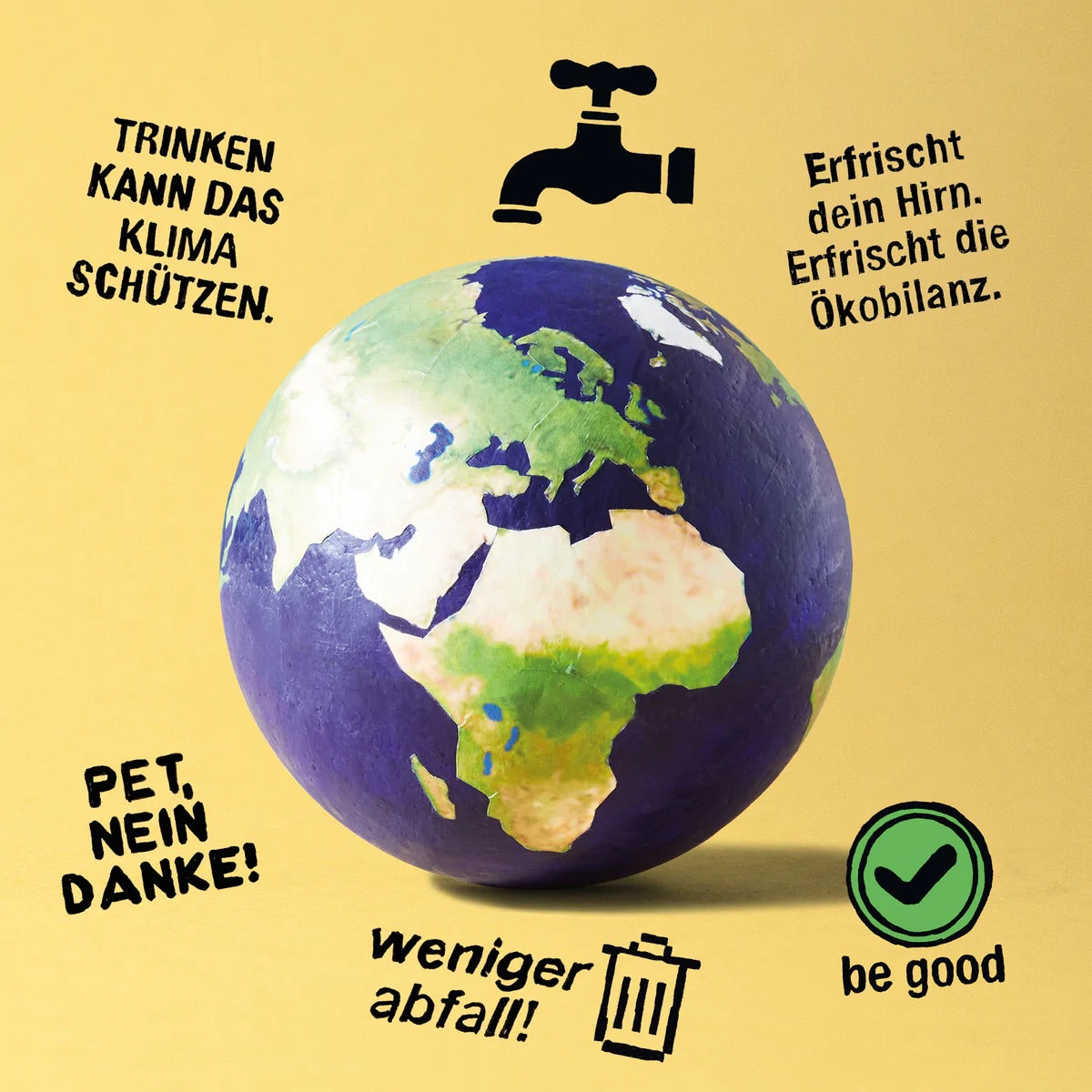 trink lokal, denk global
Unsere dropz werden in der Schweiz entwickelt
und produziert. Dabei achten wir auf eine ressourcenschonende Herstellung und komplett plastikfreie Verpackung.
Für jeden verkauften Beutel dropz fischen wir eine ozean-gebundene Plastikflasche aus dem Meer.