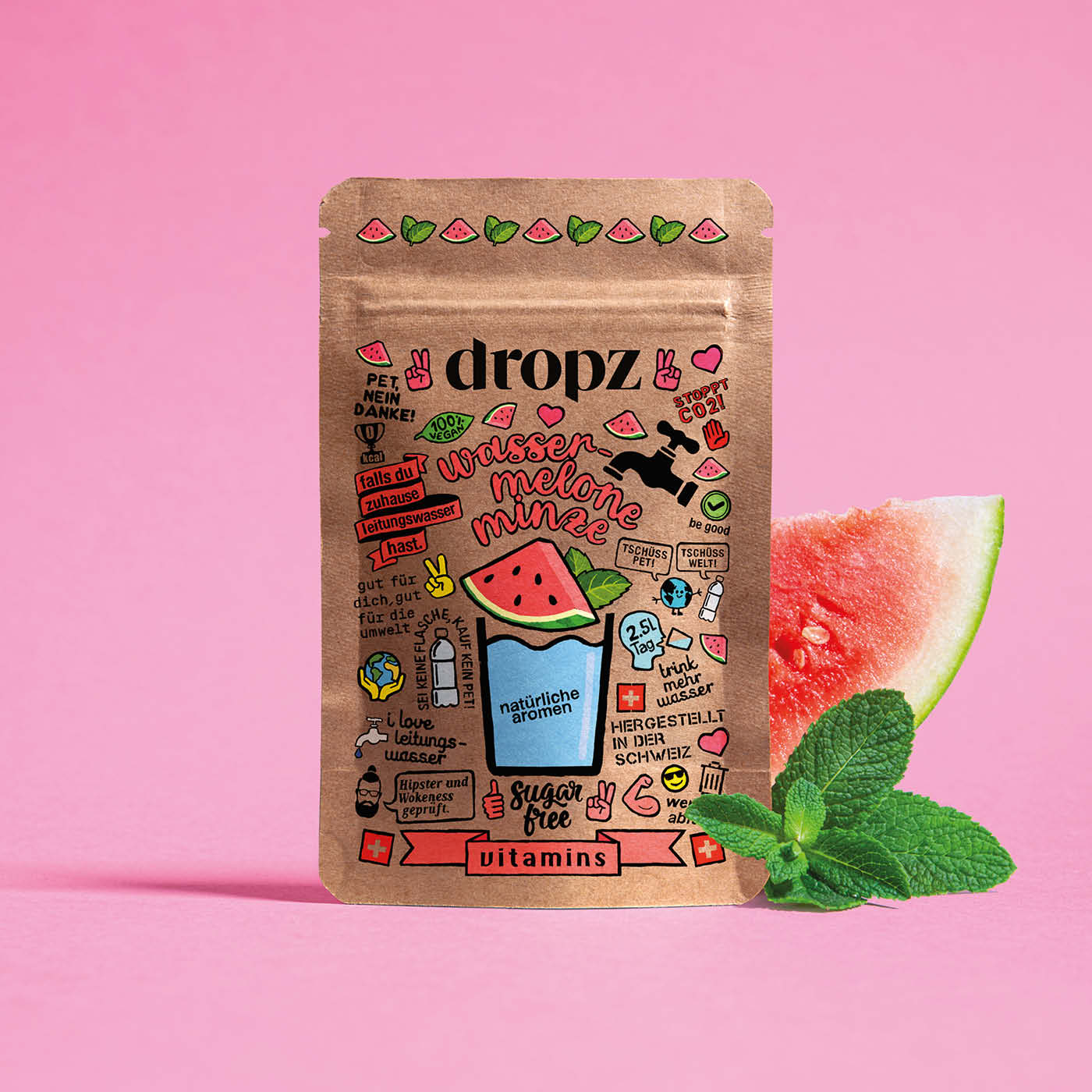 dropz - Watermelon Mint
In stock - in 3 Werktagen in Deinen Händen
Unsere Standardlieferzeit beträgt 1-3 Werktage
Kostenloser Versand ab 19 EUR
🌱 Natürliche Aromen in Schweizer Qualität

👌 Ohne Kalorien und ohne Zucker
🔋 Vitamin B6, B9 und B12
🙌 20 dropz pro Beutel

🌳 Plastikfrei

🌊 Jeder Kauf unterstützt den Ocean Clean Up

🚀 Entwickelt und hergestellt in der Schweiz

🚚 Schneller Versand, gratis ab 19.-
From now on, every day will taste like relaxing on the beach. With the fruity taste of watermelon and refreshing mint on your tongue, our dropz deliver the ultimate summer feeling to go. What's not allowed in your beach bag: sugar, artificial ingredients and calories. We use 100% vegan and natural ingredients. So you can drink more water with a clear conscience and a prickling taste in your mouth.
Beach Day to-go with the taste of watermelon and mint.
You hear the warm wind blowing through the pages of your magazine, a little sand trickles over your skin, and the beach bar beckons from afar with reggae sounds and colorful cocktails. You'd love to pack this feeling into your beach bag and smuggle it home with you on the plane.
Drinking more water has never been so easy
With dropz, you can create a wonderfully summery combination of sweet watermelon and fresh mint that will instantly make you feel like you're back under shady palm leaves. And you don't have to walk through hot sand to get it: just fill a glass or bottle with still or sparkling water and dissolve a drop in it. With the 30 dropz per bag, you get 6 - 30 liters of beach feeling that you can take anywhere.

The plastic-free infused water you've been waiting for
Now you can have fruity water without the hassle of plastic waste. With dropz you can mix infused water with the taste of watermelon and mint, which is guaranteed sustainable. Not only do you save yourself a trip to the supermarket, but you also support our Ocean Clean Up project: for every bag sold, we fish one bottle out of the ocean.
Your mood decides: You can mix one Drop with 2-10 deciliters of water, depending on how intense you want the flavor to be. Start with 5 deciliters of cold water and one Drop.

✓ Natural flavors in Swiss quality


✓ With 7 valuable vitamins

✓ Without calories

✓ Without sugar

✓ Vegan

✓ 30 dropz per bag

✓ Sustainable and plastic-free


✓ Every purchase supports the Ocean Clean Up


✓ Developed and manufactured in Switzerland


✓ Fast shipping, free from 19.-

Natürliche Aromen, Säuerungsmittel: Zitronensäure Säureregulator: Natriumhydrogencarbonat, L-Leucin, Carboxymethylcellulose Süssungsmittel: Sucralose, Vitamine: B6/B9/B12.
| | |
| --- | --- |
| Nährwertangaben pro 100ml |   |
| Energiewert/Energie | 0 kJ / 0 kcal |
| Fett (g) | 0 |
|  - davon gesättigte Fettsäuren (g) | 0 |
| Kohlenhydrate (g) | 0 |
|  - davon Zucker (g) | 0 |
| Eiweiss (g) | 0 |
| Salz (g) | 0.1 |
| | | |
| --- | --- | --- |
|  Vitamin B6 | 0.25 mg | 15% NRV* |
| Vitamin B9 | 31 µg | 15% NRV* |
| Vitamin B12 | 0.37 µg | 15% NRV* |
*NRV % des Nährstoffbezugswerts für einen durchschnittlichen Erwachsenen (8400 kJ/2000 kcal).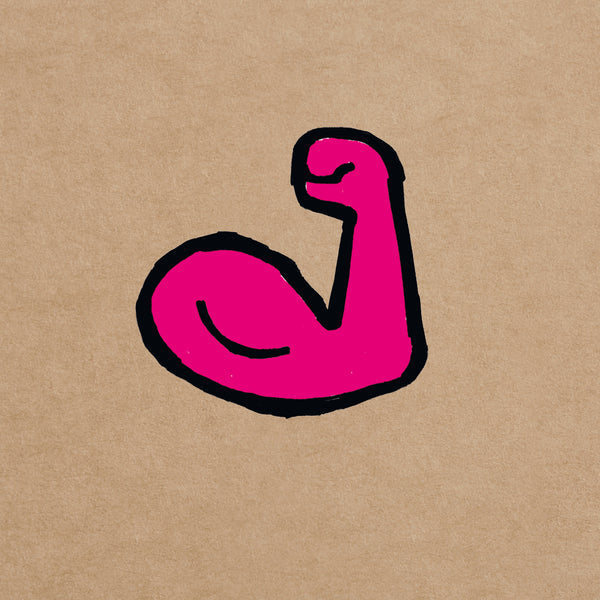 Vitaminwunder, ohne Zucker und Kalorien
dropz bestehen aus feinsten natürlichen Fruchtaromen- und Kräuterextrakten. Wir bedienen uns dabei an den Schätzen der
Natur und bieten dir eine leicht gesüsste, gesunde und nachhaltige Alternative zu bestehenden Süssgetränken.
Vitamin B6  I   Vitamin B9  I   Vitamin B12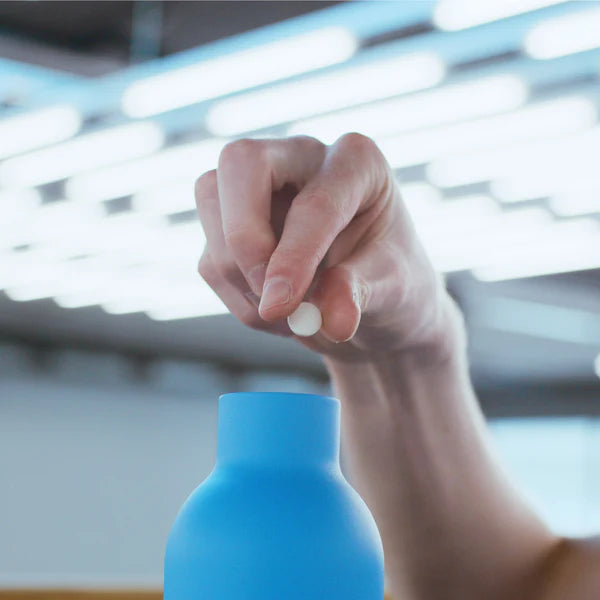 Pimp dein Wasser
Verwandle dein Wasser in ein fruchtiges Erfrischungsgetränk. Löse dafür einen Drop in 0.2 – 1 L Wasser auf. Starte mit L kaltem Wasser mit oder ohne Sprudel.
1 Beutel   I   20 dropz   I   4-20 L Geschmacksexplosion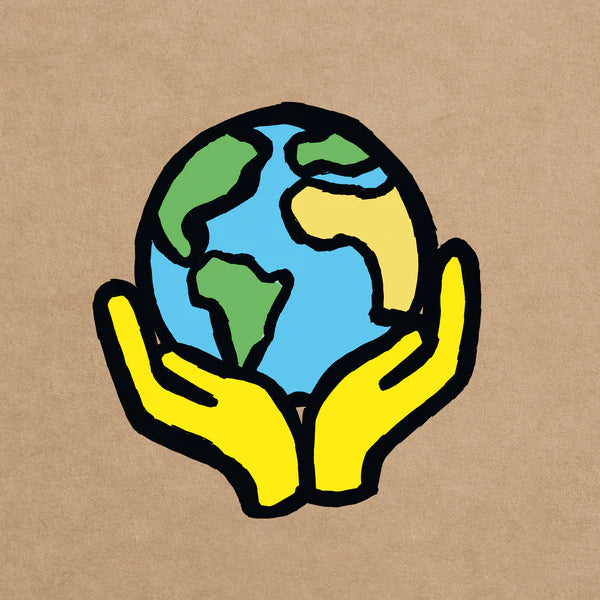 trink lokal, denk global
Unsere dropz werden in der Schweiz entwickelt und produziert. Dabei achten wir auf eine ressourcenschonende Herstellung und komplett plastikfreie Verpackung.
Für jeden verkauften Beutel dropz fischen wir eine ozean-gebundene Plastikflasche aus dem Meer.