dropz - Apple Lemon
In stock - in 3 Werktagen in Deinen Händen
Unsere Standardlieferzeit beträgt 1-3 Werktage
Kostenloser Versand ab 19 EUR
🌱 Natürliche Aromen in Schweizer Qualität, Vegan und Glutenfrei
👌 Ohne Kalorien, ohne Zucker und ohne Süssungsmittel
🙌 20 dropz pro Beutel
🌳 Plastikfrei
🌊 Jeder Kauf unterstützt den Ocean Clean Up
🚀 Entwickelt und hergestellt in der Schweiz
🚚 Schneller Versand, gratis ab 19 EUR
dropz apple with lemon brings the sun into your water glass and provides pure fruit taste - without sugar and calories.

For all those who have a desire for honest taste from Swiss nature: dropz apple with lemon combine fruity taste with citrus freshness and make your water a delicious refreshing drink. Without plastic waste and added sugar, but with real vitamins and 100% vegan - completely natural!

Natural apple flavor on the go? Our dropz make it possible!
Your meditation guru has once again sent you to a garden full of nature: You are supposed to walk with your feet through cool grass and please feel a lot of fresh air around your nose. But all you can perceive are sweaty yoga students and the chemical aftertaste of your sports drink. It's time for something natural that will really get you under the apple tree.
Get natural fruit pleasure in your glass
Our apple-lemon dropz are your delicious refreshment to go: Simply fill up a glass of water, add our drop and enjoy the fresh taste of lemon and apple, whether sparkling or still. Always at hand when you feel like having water with that extra fruit kick and want your skin to glow even before your yoga class.

Natural fruits - no more, no less
Our careful manufacturing process turns the natural products of Switzerland into fruity dropz that give your water apple flavor and lemony freshness. And they come without additives and calories. Plus: Just one dropz apple with lemon covers about ¼ of your daily requirement of seven different vitamins.
Enjoying without plastic waste
Each bag contains 30 dropz, which you can use to refine 6-30 liters of water, while doing the environment a favor: not only you save a lot of plastic bottles. For every bag of dropz sold, we fish one PET bottle out of the ocean.
Attention danger of addiction: dropz Apple Lemon turns your water into a taste adventure. Depending on how fruity you like it, you can mix one dropz with 2-10 dl of water. Try it at the beginning best with 5 dl cold water and one drop.
✓ Natural flavors in Swiss quality


✓ With 7 valuable vitamins


✓ Without calories

✓ Without sugar

✓ Vegan

✓ 30 dropz per bag

✓ Sustainable and plastic-free


✓ Every purchase supports the Ocean Clean Up


✓ Developed and manufactured in Switzerland


✓ Fast shipping, free from 19.-

Natürliche Aromen, Säuerungsmittel: Zitronensäure, Säureregulator: Natriumhydrogencarbonat, L-Leucin, Carboxymethylcellulose.
| | |
| --- | --- |
| Nährwertangaben pro 100ml |   |
| Energiewert/Energie | 0 kJ / 0 kcal |
| Fett (g) | 0 |
|  - davon gesättigte Fettsäuren (g) | 0 |
| Kohlenhydrate (g) | 0 |
|  - davon Zucker (g) | 0 |
| Eiweiss (g) | 0 |
| Salz (g) | 0.1 |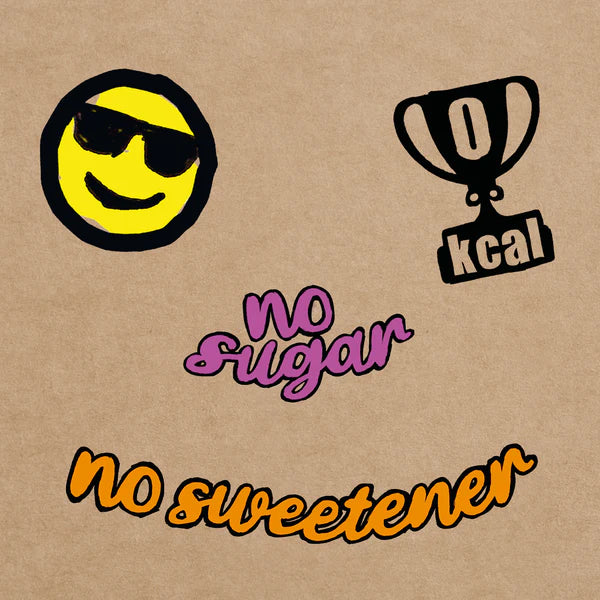 Verzichte auf Süssungsmittel
dropz bestehen aus feinsten natürlichen Fruchtaromen-
und Kräuterextrakten. Wir bedienen uns dabei an den Schätzen der Natur und verzichten vollkommen auf Zucker und Süssungsmittel.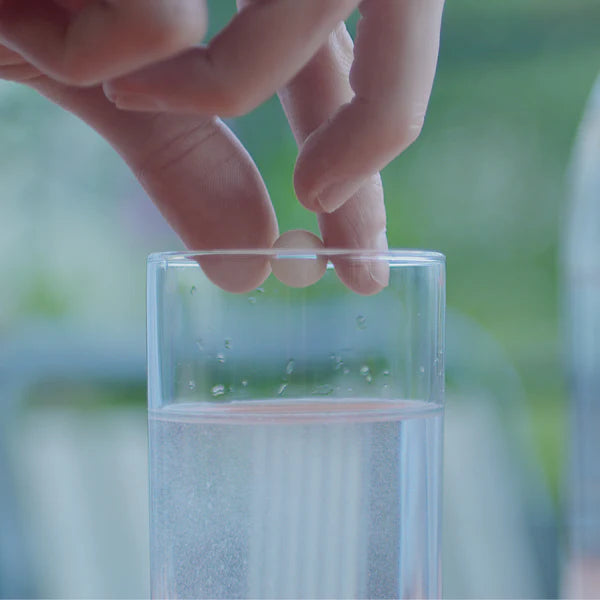 Pimp dein Wasser
Fades Leitungswasser war gestern. Löse einen Drop in 0.2 – 1 L Wasser auf und geniesse eine Ladung puren Fruchtgeschmack. Starte mit 0.5 L kaltem Wasser mit oder ohne Sprudel.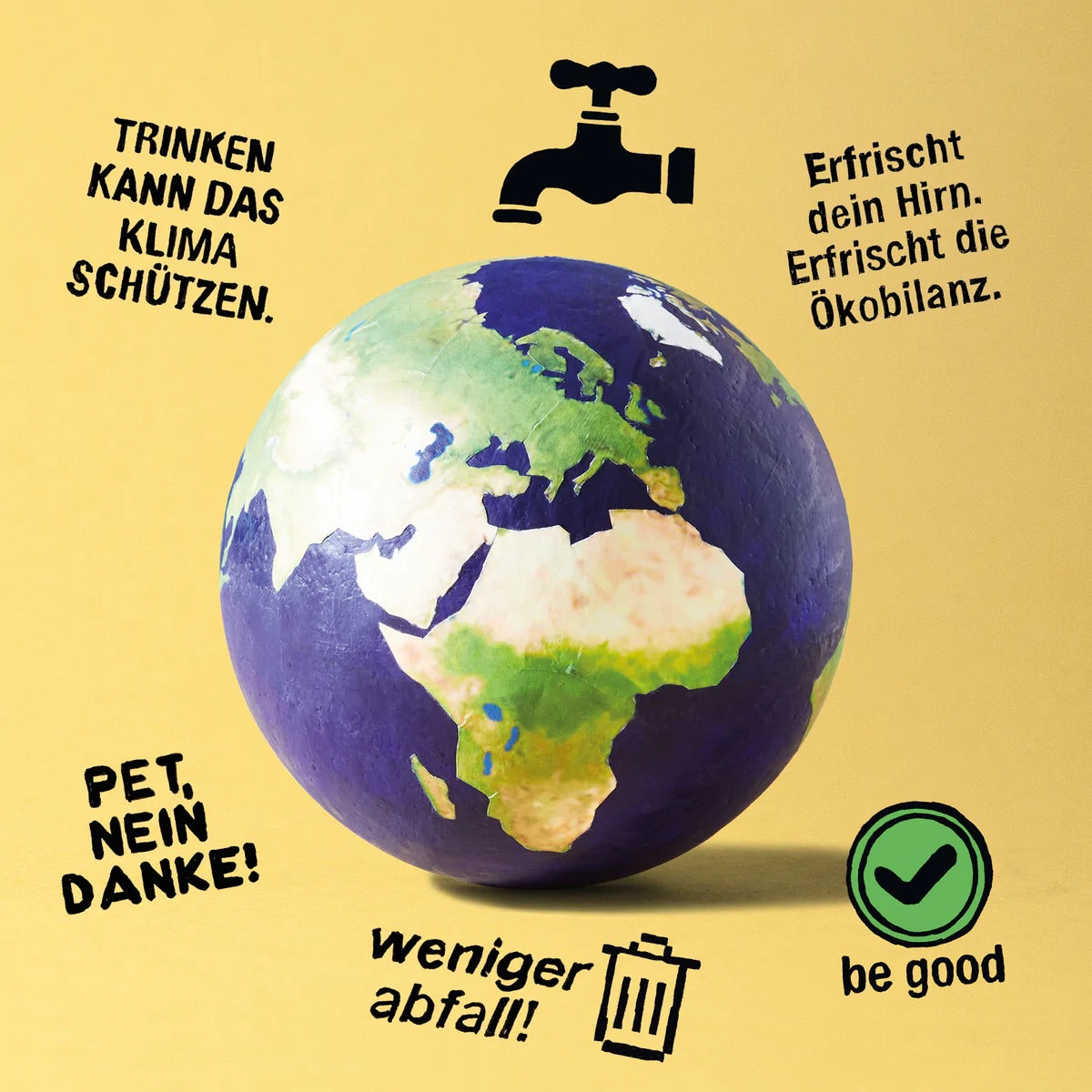 trink lokal, denk global
Unsere dropz werden in der Schweiz entwickelt
und produziert. Dabei achten wir auf eine ressourcenschonende Herstellung und komplett plastikfreie Verpackung. 
Für jeden verkauften Beutel dropz fischen wir eine ozean-gebundene Plastikflasche aus dem Meer.